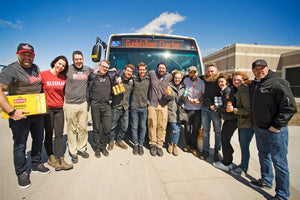 Sleeman – Beer Bus Feature
Canadians have a love affair with beer. It's no surprise, really. Early European settlers perfected making the delicious beverage and continued that tradition in the new country. So the roots run deep. By 2020, there were over 1,200 breweries across Canada and the average Canuck consumed approximately 70 liters of beer each year.
Now imagine expressing that passion in a memorable tour of your local brewers, with a chauffeur who safely ships you to each stop. That dream exists in one place – Guelph, Ontario.
"We are the only community in Canada that offers a Beer Bus," Damien Smith, the retail store manager at Guelph's iconic Sleeman Brewery, says with pride.
Smith, who prefers the title 'manager of good times and fun,' was a member of the group that created the Beer Bus experience about five years ago. Representatives from Sleeman got together with the four local craft brewers – Fixed Gear Brewing, Royal City Brewing, Brothers Brewing, and Wellington Brewery – to organize an event that would allow beer lovers to visit all five locations throughout the day for one special pub crawl. The five Breweries provide the buses, running from noon to 7 pm. All participants need to do is get down to any of the five breweries, enjoy some fine beer, and then hop on one of the buses that come around every 30 minutes headed to the next destination.
"We're all in the same industry," says Smith, an accredited beer sommelier. "All of us local brewers work collaboratively with the goal to make Guelph a beer destination. We truly enjoy each other's company. And the Beer Bus is something that's unique to our city."
The event's growth in the past few years has been amazing. There were a few bumps in the road and understandable limitations during the peak of the pandemic, but the Beer Bus has bounced back better than ever. There are now multiple dates throughout the year, beginning with the season opener on Saturday, April 15. A Beer Bus is scheduled every month (August aside) until the final date of the year on December 16.
It's attracted a surprising demographic (more Boomers than Gen Z) and many repeat visitors.
"We're blown away by the number of people who do multiple Beer Buses," says Smith. "They wear it like a badge of honour. You'll see groups of six or eight that have done it before. They often make t-shirts and have group names, all sorts of silliness.
"One regular group is known as the 'Dance Dads.' They're a bunch of dads whose daughters are all in dance. They get new hoodies for each event and they're just legends for having fun on the bus."
Fun accurately describes the day, not just on the buses, but also when participants settle in at the breweries to enjoy their beers. The smiles are contagious as people get together for selfies, share a delicious bite from accompanying food trucks, or join in singing an energetic rendition of 'Sweet Caroline.' It's an incredible vibe all day, with the Beer Bus goers keeping themselves in check.
Whether it's a scorching day in the summer or one that requires bundling up as the winter approaches, a cool part of each Beer Bus event is experiencing what the Guelph breweries have to offer. Sleeman has its own hospitality room and museum, showcasing artifacts and the brewery's rich history that originated in the 1830s before the 1988 relaunch by John W. Sleeman. The onsite retail store definitely requires a visit, as well. Bus goers love to stop in and pick up some cool glassware, wearable merch, or the unique Sleeman Crowler, a 32-ounce can with a personalized label that can be filled with one of five different beers.
The Beer Bus has become a bucket-list event for enthusiasts. It's a perfect fit for Guelph, a place known for its strong sense of togetherness and willingness to test new, innovative ideas. And the five breweries are always brainstorming to make it even better. Locals appreciate how special it is, but the word is spreading.
"We'll get people from surrounding areas like Kitchener-Waterloo, Cambridge, Milton, and Georgetown," says Smith. "They all say, 'I wish my community was doing something like this.'"
Check out https://www.guelph.beer/ for more info!
Historical fact: The Sleeman name is derived from the term Slyman. The Slymans were a family of privateers and pirates in the 1600s. They would purposely shift buoys in the water so ships would run aground, allowing the opportunistic Slymans to poach the cargo for themselves. Of course, they gave the government a cut to stay under the radar.
Featured products: Sleeman has great new products this Spring! The Sleeman Clear Mix pack, features four fruit versions of the tasty Clear 2.0 (lime, peach, grapefruit, and pineapple) and the Sleeman Seasonal Pack, includes Pier Point IPA, Honey Brown, Cream Ale, and the new Century Pale Ale.
Visit the Sleeman Retail Store for information on products or to place an order!
https://sleemanretailstore.ca/pages/contest-page
---