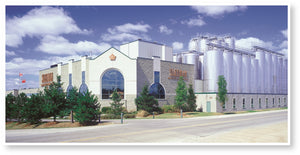 Sleeman Brewery History
Sequels typically don't reach the heights of an original, bar a few exceptions. Sleeman Brewery is one of them. When John W. Sleeman channeled his family's rich history to reopen the great brewery in 1988, it marked a seismic shift in the Canadian beer industry. Delicious old recipes were showcased in trademark clear bottles, revealing the inviting colours of the brews, while adding an element of purity to those who consumed them.
 Born in Toronto in 1953, Sleeman was in his early 20s when he returned to Canada after a stint in England. He arrived back on Canadian soil with huge business aspirations and a deep-rooted appreciation for the beer-making process. Sleeman opened a pub in Oakville (named The Major Oak) and immersed himself in the world of importing the satisfying beverage he knew so well. But Sleeman was always a big-idea character and during a visit with his father's sister Florian in 1984, his future path – like the bottles he eventually mass-produced – became clear. Aunt Florian presented Sleeman with the family's collection of beer recipes, an old leatherbound book that held incredible secrets within its weathered pages. That was the spark to reestablish Sleeman Brewing and within a few years, the latest and most important chapter of the company had begun.
 Sleeman beers, most notably the delicious Cream Ale, became ubiquitous in Guelph, enjoyed in massive amounts both by the bottle and on tap at local establishments. Thirty-five years later, Sleeman has grown to become the third-largest brewer in the country, while never losing sight of the vision to provide Canadians with better beer.
Sleeman origins
John W. Sleeman came by his entrepreneurial hunger honestly. His great-great-grandfather John H. Sleeman must have passed that gene down the family lines. The native of Cornwall, England moved to Upper Canada in 1834 and within two years, had opened the Stamford Spring Brewery in St. David's. His son George was born five years later.
 
John H Sleeman (seated) with his son George
By 1845, Sleeman was brewing craft beer across the border in Lockport, NY, but two years later, he sold his Stamford Spring Brewery and moved to Guelph. The village was just about 20 years old at the time and Sleeman bought land on Waterloo Ave, where he would eventually build a home and open the Silver Creek Brewery. The business was destined to become a family affair. Sleeman's son George was just a fresh-faced 18-year-old when he began running the operation in 1859.
The famous Sleeman family recipe book 
The year 1867 was a monumental one in the Sleeman family. With Confederation as a backdrop, George became the sole owner of the business after John retired from the industry. Agencies were established around the region in Hamilton, Brantford, Owen Sound, Stratford, and Palmerston. George became a father himself, as the family welcomed George A. Sleeman later in that historic year.
A visionary
George Sr. was very much an innovator, and his ideas were rooted in science and technology. He introduced the concept of using a kiln to ensure the quality of the malt in the beer, built a cool storage cellar to accommodate increased production, and invented a device known as an "attemperator" to control the temperature of steam in the brewing process. These were next-level moves. Sleeman has standardized the brewing process and decreased his labour costs, all while developing a superior product. He went even a step further by introducing bisulphate of soda to their brews, which preserved and stabilized a product traditionally known to go bad amidst slight changes in temperature, especially in a time without refrigerated trucks (this preservative is no longer used or needed in modern-day brewing). Sleeman beer had a longer shelf life, and a tantalizing, unique look, thanks to another one of George's strokes of genius – that clear bottle.
From 1871 to 1872, the factory's production doubled. Sleeman's popularity continued to grow, especially after George built relationships with local sports teams like the Guelph Maple Leafs baseball club. He also became the city's first-ever mayor after its incorporation. George retired in 1905 and passed away in 1926, 10 years after the Ontario Temperance Act, which prohibited the sale of alcohol but not its production, was passed. A year later, the Ontario Temperance Act was repealed, marking the switch to a provincial control system that was named the Liquor Board of Ontario, or LCBO as it is still known today.
 In 1933, while George A. was stationed in Ottawa, his brothers had reached out to the infamous mobster Al Capone and began smuggling unlabeled bottles of high-octane beer into the USA. They were caught in the act and charged with tax evasion. The family's brewing license was suspended. An excise judge claimed that "no one with the last name Sleeman will hold a brewing license for 50 years."
It marked the end of an era.
 New beginnings
Sleeman Brewing and Malting was officially registered as inactive in 1955 when John W. Sleeman was just a toddler. But within a few decades, the descendant of Canadian brewing legends would make his own mark on the industry. Just a few years after reopening the operation in 1988, Sleeman doubled its capacity to 60 million bottles per year, achieving a 1 per cent share of the massive Ontario beer market.
 The accolades and acquisitions followed. In 1994, Sleeman Brewing & Malting Co was named to the list of Canada's 50 Best Managed Private Companies. Chairman, President, and CEO John W. Sleeman spearheaded the merger with Okanagan Springs Brewery and the company became a public entity on the Toronto Stock Exchange, with newly named Sleeman Breweries Ltd using the appropriate symbol "ALE."
The First Spike -- George Sleeman's wife Sarah drives the first spike into a railroad that the family had backed financially.
There were major deals with foreign companies, including an agreement with Japanese giant Sapporo Breweries Ltd to provide contract production for Sapporo products in the USA. And in 2006, Sapporo spent $400 million to acquire Sleeman.
The little project that John W. Sleeman began almost 170 years ago made history, becoming one of the most prominent and recognizable brands in the Canadian brewing industry. The tasty ale in the clear bottle was the impetus for an explosion of different product ideas, which havemade Sleeman and the City of Guelph synonymous.
----------
---